Terres d'Albine : Earth and Fire
TERRES D'ALBINE was founded in 1998, by the will of Alain BOUISSET to develop the activity of terra cotta decoration within the brickyard.
It is on the market of the garden decoration that the company has positioned itself. And in particular in the reproduction of decorative pieces which made our history from the 16th century up to the beginning of the 20th century.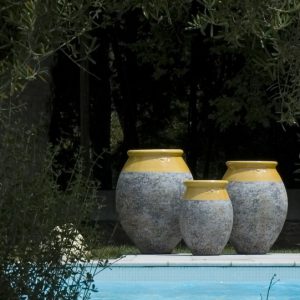 The know-how of our family and its control of the Terra cotta, since five generations, made it possible for the Languedocien vases to be manufactured. These vases are entirely handcrafted, by stamping, enamelled and aged. A wide range with dimensions of 60, 80 or 110 centimeters, a choice of patterns (Bacchus, "Fleur de Lys", Classic, Vine…), various colors and an aged finish.
The market being receptive, TERRES D'ALBINE has extended its range with reconstituted stone products, from bouquets to the four Seasons statues, but also from putti to vases, treated to give them aged and patinated look close to the aspect of the Antique products.
We have developed meanwhile a new technique to manufacture vases and jars « à la corde » (using the rope technique). It is another collection of handcrafted products which is created, the earthenware jars with olive or drop form, the famous jars known as « Biot » with heights from 60 to 130 cm. Also inspired vases of Italian Renaissance with aged finishes very similar to old pots from down the centuries.
The exceptional finish of the patina and the techniques of ageing, allow these products to be sold both in France and abroad (Europe, the United States, Australia…), and in the gardens of the most beautiful residences worldwide.